Multi-Temporal analysis of land use. Valley Lo Campino, Quilicura
Keywords:
Multitemporal analysis, land use change, road alternatives, landscaping proposal
Abstract
The present investigation deals with the change of land cover through a multitemporal analysis between the years 1998-2018, in the commune of Quilicura, Metropolitan Region, in an area called Valle Lo Campino, defined by Cerro Renca and its foothills. For this purpose, a supervised classification was carried out in five-year periods based on satellite images, Google Earth support and the land use thematic classification established by the National Forest Corporation in 2011. From this, it was determined qualitatively and quantitatively change the territory according to thematic cartography and a confusion matrix. In addition, the population increase was determined based on data published for 2017 by the Statistics Institute of Chile and the determination of potential vehicular load established in the field, with the support of sample units. Overall, the analysis is the basis for road identification and improvement of the area and its connectivity to structuring routes, from the perspective of objective image, with the support of methodologies and inputs from geomatics, topographic concepts, the projection of new alternatives vials and ground support. At the same time, a landscape proposal is proposed that enhances the geographical characteristics and the landscape value, obtained from the environmental assessment guide presented by the Environmental Impact Assessment Service and the nature of Cerro Renca island within the Metropolitan Region.
Downloads
Download data is not yet available.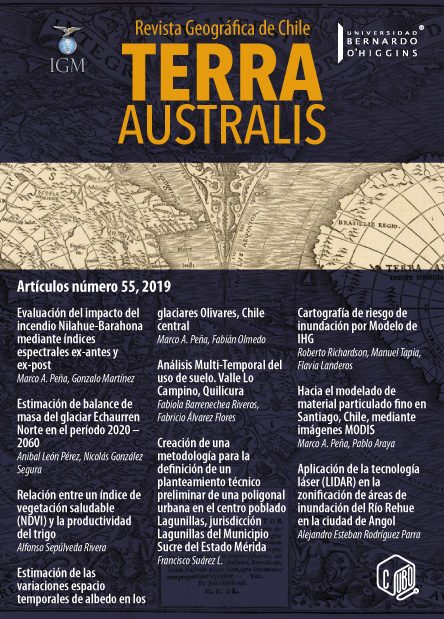 Downloads
How to Cite
Barrenechea Riveros, F., & Álvarez Flores, F. (2019). Multi-Temporal analysis of land use. Valley Lo Campino, Quilicura. Revista Geográfica De Chile Terra Australis, 55(1), 45–57. https://doi.org/10.23854/07199562.2019551.Alvarez45
License
Copyright notice:
 Revista Geográfica de Chile Terra Australis retains the economic rights (copyright) of the works published in the Revista Geográfica de Chile Terra Australis. The reuse of the content is allowed under a license:
CC BY
Recognition

This license allows others to distribute, remix, tweak and build upon your work, even for commercial purposes, as long as you are acknowledged as the author of the original creation. This is the most helpful license offered. It is recommended for maximum dissemination and use of the materials subject to the license.
For more information see the following links: