Glacier retreat with optical and radar images: Olivares Glacier and Juncal sur
Keywords:
glacier, albedo, speed, glacial retreat
Abstract
Most of the glaciers in Chile have experienced strong retreats and surface reductions from historical times to the present in response to global climate changes (1). Climate change is not the only factor, given that both the Anthropic intervention and/or natural factors may contribute to accelerating glacial shrinkage. Studies and measurements carried out by researchers have revealed that the Andean glaciers of the central zone are increasingly vulnerable to processes of mass loss and fragmentation as a result of the darkening of the ice and its effect on the absorption of solar radiation, a phenomenon known as the albedo effect. Not only are they losing surface, but they are also thinning up to two meters per year, a figure that is no less, since a large part of the glaciers in the central zone, and in particular in the Metropolitan Region, are no more than a few tens of meters Tall.
Having knowledge of the variation of the glacial area is essential for the decision-making process in the management and conservation of solid water reserves and thus face potential water crises in the region over time.
Through remote sensing techniques and the use of Geographic Information Systems (GIS), the aim is to determine the variation in area and volume that the Olivares Alfa, Beta, Gamma and Juncal Sur glaciers have experienced and at the same time calculate the current speed of movement Juncal Sur Glacier.
Downloads
Download data is not yet available.
References
RIVERA, A., CID, G., PELTIER, C. y KAPLAN, M.Variaciones glaciares desde la Pequeña Edad del Hielo en la cuenca alta del río Olivares, Chile central. Santiago : s.n., 2019.
MASIOKAS, M., RIVERA, A., ESPIZÚA, L.,VILLALBA, R., DELGADO, S., and ARAVENA, J.C. Fluctuaciones de glaciares en Sudamérica extratropical durante los últimos 100 años. 2009.
DOZIER, J. Spectral signature of alpine snow cover from the Landsat Thematic Mapper. 1989.
PATERSON, W.The Physics of Glaciers. 1994.
GRUPO INTEGUBERNAMENTAL DE EXPERTOS SOBRE EL CAMBIO CLIMÁTICO, IPCC. Resumen técnico Cambio Climático. 2013.
BARCAZA, G., NUSSBAUMER, S., TAPIA, G., VALDÉS, J., GARCÍA, J.L., VIDELA, Y., ALBORNOZ, A., ARIAS, V. Inventario de glaciares y variaciones glaciares recientes en los Andes de Chile, América del Sur. Santiago : s.n., 2017.
LLIBOUTRY, L. Nieves y Glaciares de Chile. Fundamentos de Glaciologia. Santiago : Ediciones Universidad de Chile.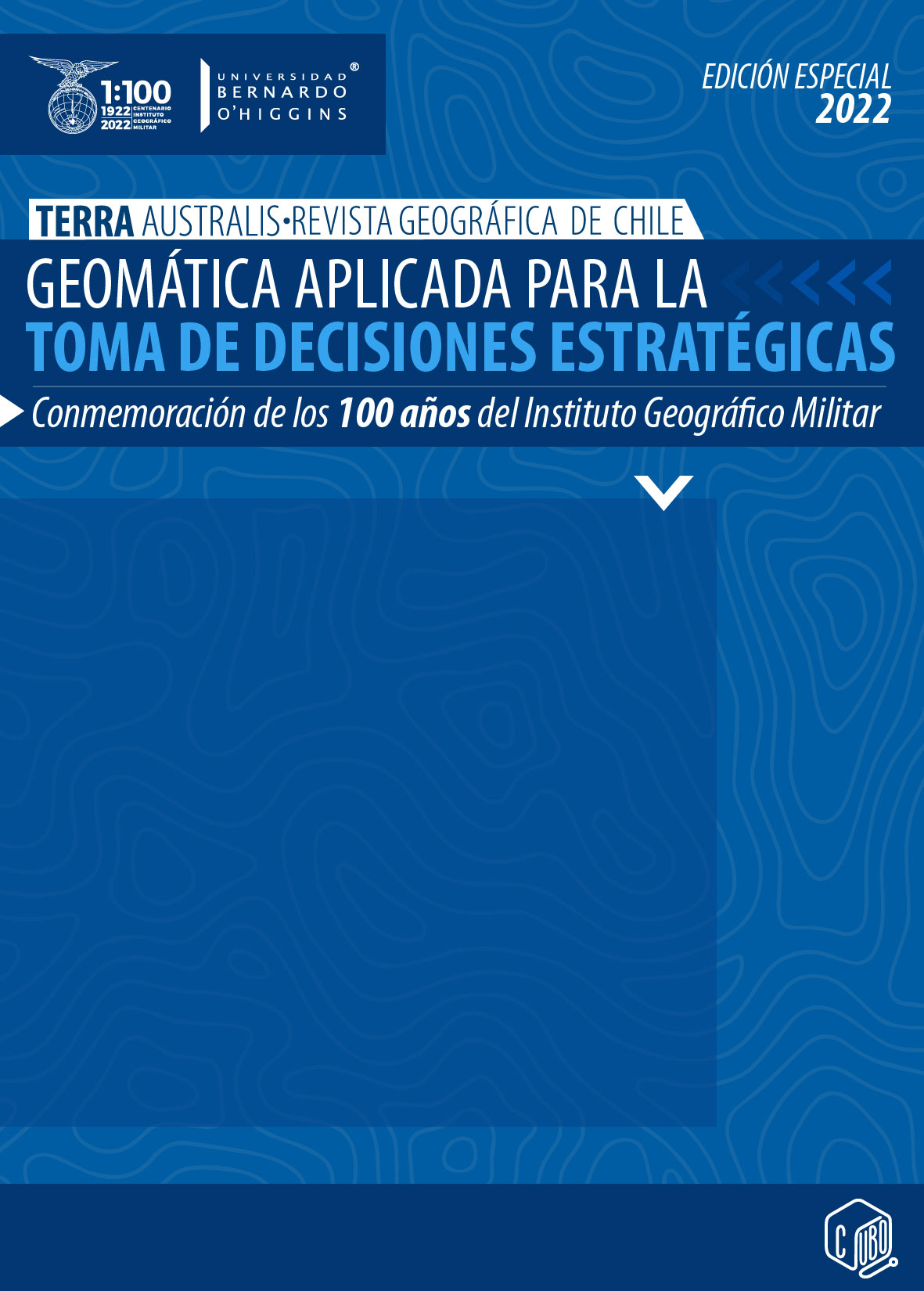 Downloads
How to Cite
Ibáñez, C., & Robledo Ceballos, J. . (2023). Glacier retreat with optical and radar images: Olivares Glacier and Juncal sur. Revista Geográfica De Chile Terra Australis, 58(2). https://doi.org/10.23854/07199562.202258esp.Ibanez45
License
Copyright (c) 2023 Revista Geográfica de Chile Terra Australis
This work is licensed under a Creative Commons Attribution 4.0 International License.
Copyright notice:
 Revista Geográfica de Chile Terra Australis retains the economic rights (copyright) of the works published in the Revista Geográfica de Chile Terra Australis. The reuse of the content is allowed under a license:
CC BY
Recognition

This license allows others to distribute, remix, tweak and build upon your work, even for commercial purposes, as long as you are acknowledged as the author of the original creation. This is the most helpful license offered. It is recommended for maximum dissemination and use of the materials subject to the license.
For more information see the following links: