EDITORIAL
Abstract
    En el mundo globalizado en el que vivimos, cada vez toma mayor relevancia el manejo oportuno y eficiente de los datos disponibles en los diferentes medios y plataformas que la tecnología nos ofrece, así, el adecuado análisis y uso de ellos permitirá generar la información necesaria para adoptar las mejores decisiones dentro de un escenario de incertidumbre determinado. En este contexto, es posible comprender la existencia de una gran variedad de datos alojados en esta inmensa red de fuentes interconectadas y el potencial que conlleva lograr relacionarlos y transformarlos en información útil, asimismo, también es posible dimensionar la ventaja que nos entrega uno de los  componentes que intrínsecamente poseen dichos datos y que bien utilizados, permiten que dicha información se represente de una manera espacial, más amigable y gráfica, consiguiendo el acceso a ella de un mayor número de personas. Es en este punto donde las disciplinas de las geociencias comienzan a tener preponderancia al momento de identificar, ubicar, cuantificar y representar de manera clara y precisa, la información disponible, por lo que no resulta difícil de entender que disciplinas como la geoestadística, geografía, cartografía, geomensura, geomática, entre otras, aporten desde sus particulares perspectivas en el análisis de la información obtenida, permitiendo con ello entregar una mirada distinta a los métodos tradicionales de análisis en busca de la optimización en la toma de decisiones.  
Downloads
Download data is not yet available.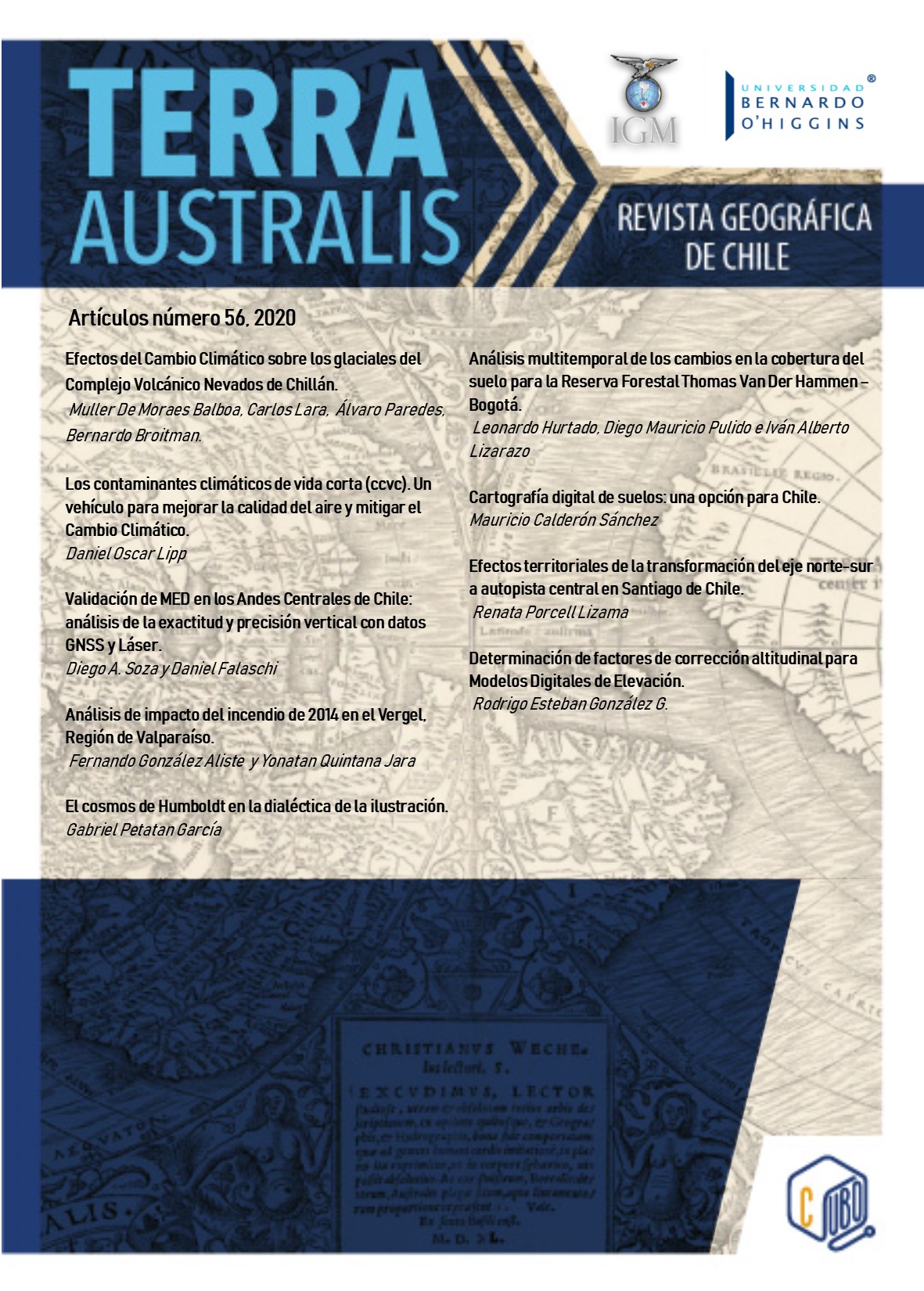 Downloads
How to Cite
Militar, I. G. (2020). EDITORIAL. Revista Geográfica De Chile Terra Australis, 56(1), 2–4. Retrieved from https://www.revistaterraaustralis.cl/index.php/rgch/article/view/77
License
Copyright (c) 2020 Instituto Geográfico Militar
This work is licensed under a Creative Commons Attribution 4.0 International License.
Copyright notice:
 Revista Geográfica de Chile Terra Australis retains the economic rights (copyright) of the works published in the Revista Geográfica de Chile Terra Australis. The reuse of the content is allowed under a license:
CC BY
Recognition

This license allows others to distribute, remix, tweak and build upon your work, even for commercial purposes, as long as you are acknowledged as the author of the original creation. This is the most helpful license offered. It is recommended for maximum dissemination and use of the materials subject to the license.
For more information see the following links: