Digital Soil Mapping: An option for Chile
Keywords:
digital soil mapping, predictive models, soil-landscape models, spatial variation, soil inference systems
Abstract
The current soil mapping produced by CIREN, covers a part of the current needs of the country related to soils of agricultural and forestry aptitude; at detail scales, however, there is a lack of soil studies and associated mapping related to such particular ecosystems as highland soils, wetland water soils, high mountain soils, soils of remote regions and island territories, both in detail and in thematic recognition and mapping. It is understood that this involves a high cost for field activities, however, digital soil mapping is able to cover a series of aspects related to the extension and spatial distribution of soils as predictive models for the growing demand in ecological and environmental aspects. Through the SCORPAN model, it is possible to generate a cartography that represents soil classes and thematic properties. Pedotransfer functions allow to estimate unknown variables through known soil properties, fitting to regression models. The capture of terrain morphological records together with soil samples that analyze physical, chemical and biological properties allow the use of these records as training data to validate the transfer functions.
This trial seeks to reflect the importance of applying digital soil mapping models in Chile for better resource management.
Downloads
Download data is not yet available.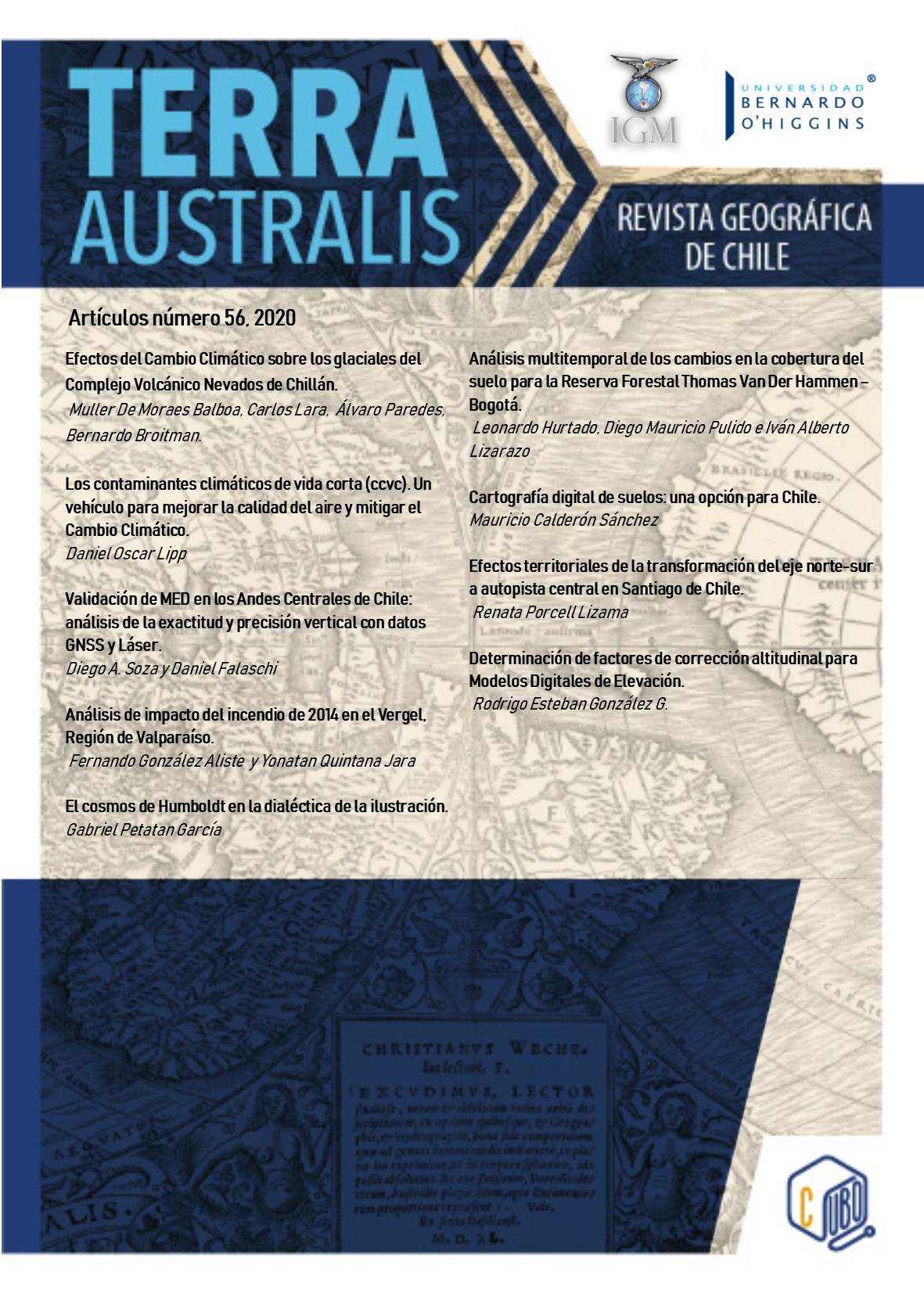 How to Cite
Calderón, M. (2020). Digital Soil Mapping: An option for Chile. Revista Geográfica De Chile Terra Australis, 56(1), 87-99. https://doi.org/10.23854/07199562.2020561.Calderon87
The articles in Revista Geográfica de Chile Terra Australis are published under Creative Commons Attribution-NonCommercial 4.0 International License (CC BY-NC 4.0).