Multi-temporal analysis of soil changes for the Thomas Van Der Hammen Forest Reserve - Bogotá
José Leonardo Hurtado

Universidad Nacional de Colombia

Diego Mauricio Pulido

Universidad Militar de Colombia

Iván Alberto Lizarazo
Keywords:
sustainable development
Abstract
In this article, the purpose is to monitor the Thomas van der Hammen forest reserve, the largest urban forest reserve in Colombia between 1977 and 2017. The analysis focuses on the change that occurs in land cover for the northern zone of the city of Bogotá, especially to observe and identify the causes and the specific areas from which the urban expansion of the towns to the north of the city and two of its neighboring municipalities (Chía and Cota) begins to be generated. This study frames a special relevance due to the context of change of government in Bogotá focused on a change in the land use plan and the possible urbanization of said reserve. To carry out this multitemporal analysis, various satellite images (Spot, RapidEye and Landsat) were classified in established periods of time and thus compare the information over time and quantify both the land cover and the area of ​​change per period and accumulated. The study shows as the most impressive result the accelerated increase in construction land, which went from 500 hectares in 1977 to more than 5,100 hectares in 2017, which allows concluding the existence of a critical change that entails a direct impact on the structure. ecological reserve and where concepts such as the sustainable development of the Colombian capital are tested.
Downloads
Download data is not yet available.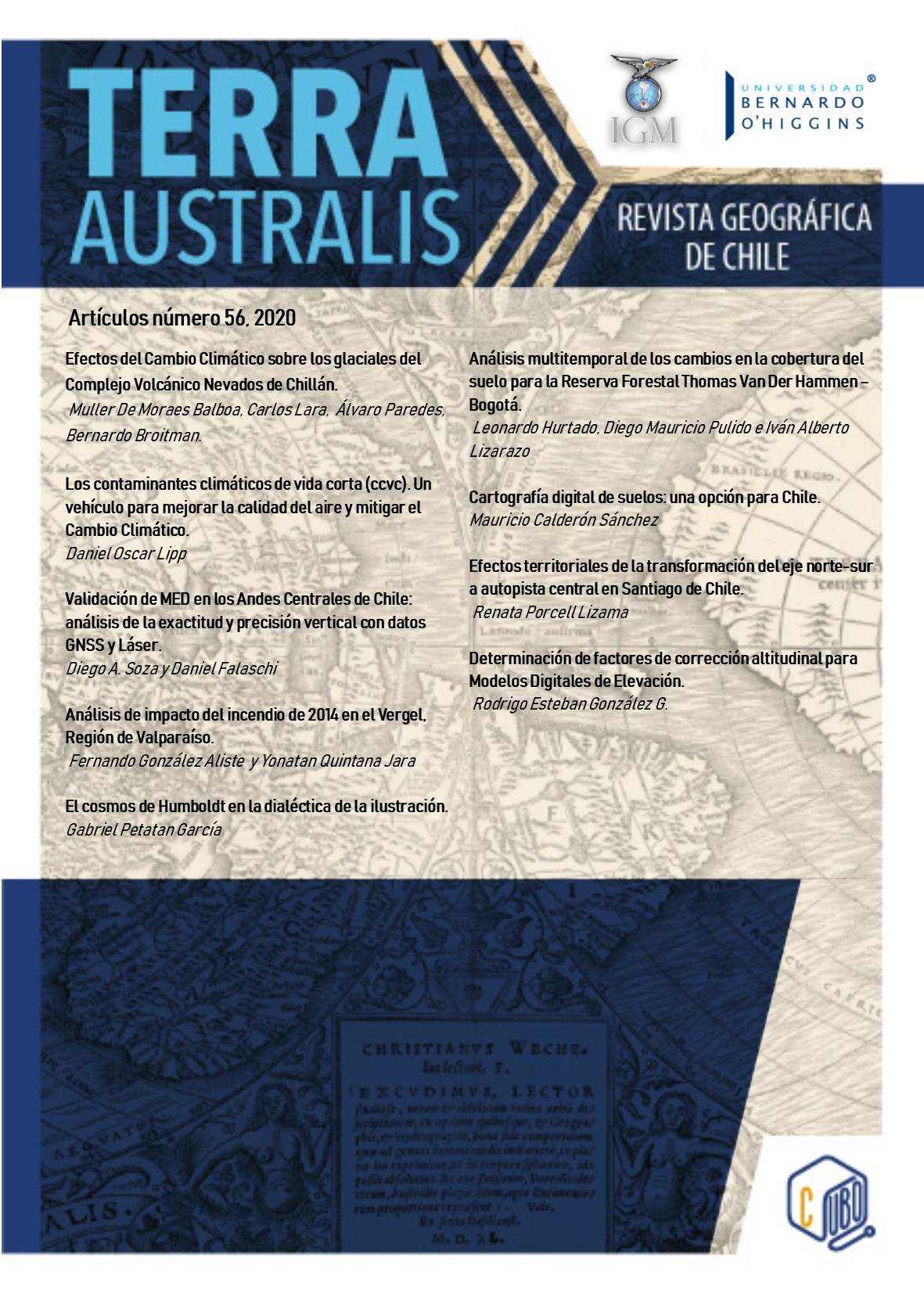 How to Cite
Hurtado, J., Pulido, D., & Lizarazo, I. (2020). Multi-temporal analysis of soil changes for the Thomas Van Der Hammen Forest Reserve - Bogotá. Revista Geográfica De Chile Terra Australis, 56(1), 71-86. https://doi.org/10.23854/07199562.2020561.Hurtado71
The articles in Revista Geográfica de Chile Terra Australis are published under Creative Commons Attribution-NonCommercial 4.0 International License (CC BY-NC 4.0).